Although it is not necessary to have a website to start your online business, it is a great advantage if you have a website, better still if you have multiple websites!
Having a website with good content is the key success factor in building an online business. To create a good website that can attract huge traffic and generate high page view, you must focus a lot on the content. You ought to write something that can attract people's attention and keep them coming back to visit your web pages. Just take a look at those successful and famous websites like Google, Yahoo!, CNN, MSN, Facebook and more, they provide all kinds of interesting stories, news, applications, games, utility programs and much more, and they attract billions of visitors. Because of high traffic, these websites, portals, and search engines are valued at billions of dollars, and they actually generate billions of dollars out of advertising, subscription fees and other businesses.
To start building your website, first of all, you must decide on your web site's topic or theme. You should work on a niche market that is big enough and has the potential to generate sizable profit, as well as something you are good at. For instance, you can write something about programming, sports and games, travel, books review, astronomy, health, education, any hobby, and more. Next, you should conduct some research by gathering information from books, journals, the Internet and so on. After you have gathered enough information, you may now design the framework for your content and get the main topic and subtopics properly arranged.
There are various ways to create a website. You can use GUI-based web page development programs such as MS Frontpage and Macromedia Dreamweaver to design your web pages and create a website. Besides, you can also use notepad to design your web pages from scratch using HTML or PHP.  However, the aforementioned ways required the developers to upload the files to a web server via an FTP (Files Transfer Protocol) program.  Nowadays, a more trendy way of website development now is to use a content management system(CMS) that allows you develop a website with relative ease.
 One of the most popular CMS is WordPress, it is a free and open-source content management system based on PHP and MySQL. Our website is created using WordPress. Other popular CMS are Joomla, Drupal and more. Some CMS are specially designed to create e-commerce applications like an online shopping mall, where you can include catalogs ,shopping cart, promotions, payment system and more. One of the more popular e-commerce CMS is Magento, an open-source e-commerce platform. You can click here for top five e-commerce platforms.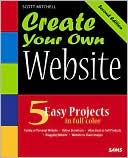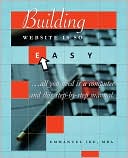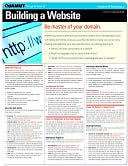 In order to build quality websites, you need to learn from the experts. I would recommend a few books from Barnes and Noble that teach you how to build good websites.

After you have done all your web pages, you can then contact a web hosting company to register your domain name and to get a web server to store your files for online viewing by paying a nominal fee. You must think of a domain name that is related to your contents and special enough to catch people's attention.However, currently, many domain names have been taken up so you may not get the ideal name you want. In that case, you have to settle for the next best domain name. For example, my website is a tutorial website about Visual Basic programming so I registered my website as www.vbtutor.net.
Here are some popular web hosting companies that offer many kinds of web hosting solutions starting from budget hosting to fully integrated business hosting solutions:

The package offered by should be one of the best in the world.


And this one by Network Solutions should be good too.
and this one offers best vlue hosting,


This one offers hosting solutions for small businesses,


For domain name registration, you can visit:
Free domain name (.com, .net, .org, .us, .biz, .info & .name) with annual web hosting. 99.99% Unix® uptime.
You can choose webserver as your hosting provider.
After completing your website, you have to market your website; first of all, you must submit your site to the major search engines through many website submission websites, like
http://www.submitexpress.com
On top of that, you must remember to add all possible keywords related to your site in your META Tag so that search engines can crawl your site and find the necessary info. Besides, you can market your website by emailing your friends, join discussion groups, leave messages in the guest book of other related websites, join forums, and yes, answer questions in Yahoo! answers section. Most important of all, you must enrich your contents and update your web pages regularly. By doing all these, you can expect to achieve good page rank under major search engines.
Learn about how to create Multi-profit Websites.
To learn more about HTML, click the following link: